Armies of Zatikon now available on Google Play and the Mac App Store for Free!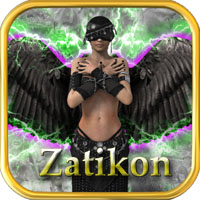 Our ever-popular Chess and Trading Card Variant, "Zatikon", now comes to you on all Android phones and tablets and Mac laptops and desktops with it's new counterpart - "Armies of Zatikon"! Armies of Zatikon will also be coming to iOS soon!
Originally developed as a hybrid between Trading Card Games like Magic the Gathering and the classic game of Chess, Armies of Zatikon offers mobile users a new look at this timeless strategy game. Battle players around the world in modes such as: 2 vs 2, single player vs the AI computer, player vs player, random, and 2 vs 1 Co-op mode: You and a friend take on the computer AI together!
Win gold and buy new units to improve your armies and strategy, from the "Dark" pieces like the Necromancer, Dracolich and Warlock, to the "Light" options like the White Wizard, Flying Snake, and Archangel! With over 100 different units, there are endless possibilities to creating your own unique armies and tactics.
Best of all, Armies of Zatikon is now FREE TO PLAY!!! If you like Chess, or you like trading card games and creating your own decks, or if you just like turn-based strategy games, then this game is for you! Try it out now on the Google Play Store, Mac App Store, or both and give us a review! We are listening, and Google Play even lets us respond back to you!
Unsubscribe
If you no longer wish to receive this newsletter you can unsubscribe here.
Links