Home
>
Pontifex
>
Order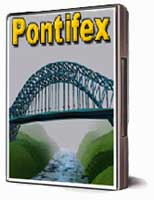 Price:
$19.95
Versions:
Download size:
1 MB
Free demo:
1 MB
Developer:
Chronic Logic
Questions:
Contact Support
Bundle with Bridge Construction Set and Bridge It for just $19.95 more!
Delivery Options:
Download only version:
Immediately after completing your order for downloadable version of Pontifex you will receive an e-mail with instructions for downloading the full version for Windows. It is very important you use a working e-mail address when ordering.